Oportunidad benéfica
DONATE NOW TO UNICEF USA FOR COVID-19 VACCINE EQUITABLE DSITRIBUTION
Gucci partners with UNICEF USA to support equitable distribution of COVID-19 vaccine
Sobre esta Oportunidad benéfica
About this Giving Opportunity
#GucciCommunity
#UNICEFWontStop
In July 20, 2021, 190.8 million COVID-19 cases and 4.1 million deaths have had been reported globally. The pandemic continues to have a catastrophic impact on children and their families across the entire globe. Equitable access to COVID-19 vaccines, tests, and treatment continues to be the only way to end this pandemic for everyone.
UNICEF is at the forefront of the fight to end the pandemic, distributing tests, treatments, and vaccines across the globe while combatting the spread of misinformation through risk communication and community engagement activities.
In December 2020, Gucci donated $500,000 to UNICEF USA, adding a further $100,000 on behalf of the Gucci Community, and additional commitment is ongoing in 2021 to help ensure COVID-19 vaccines are equitably procured and distributed in the most vulnerable communities around the world.
As of the first week of October 2021, this partnership helped UNICEF in :
Procuring and delivering 342 million COVID-19 vaccine doses to 144 countries
Delivering 92,544 COVID-19 rapid diagnostic tests
Conducting risk communication and community engagement activities throughout 73 countries
While we collectively have made significant progress towards meeting the delivery of 2 billion vaccine doses this year, current projections have COVAX delivering about 1.4 billion doses by the end of 2021 due to the supply constraints throughout the year.
Significant inequities in the distribution of COVID-19 vaccines continue to put us all at risk. WHO indicates that about 3.592 billion people have been vaccinated with at least one does, accounting for at least 45% of the world's population.
How can an individual donation make a difference?
$5 could provide 16 face masks to keep health workers safe
$10 is enough to support the in-country logistics required to transport 250 doses of the COVID-19 vaccine
$20 is enough to supply 22 liters of hand soap to keep health workers safe
$50 could provide 30 doses of COVID-19 vaccine in country
CLICK ABOVE. DONATE NOW!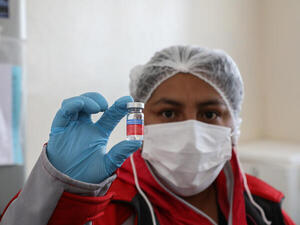 Cómo funcionan las donaciones
Haga clic en cualquier botón de "Donar ahora" y, luego, decida su importe de donación. Será dirigido al procesador de pagos que elija. Una vez que su donación se haya procesado, se enviará a la entidad benéfica de su elección.
¿Necesita ayuda?