Opportunità di donazione
Equality Now: Stand with Women in the Middle East to Create Change
Supporting activists in Middle East and North Africa to repeal discriminatory laws
Informazioni su Opportunità di donazione
About Equality Now
Equality Now is a global human rights advocacy organization committed to ending violence and discrimination against women and girls around the world. With a focus on legal advocacy, Equality Now works tirelessly to challenge laws and practices that perpetuate gender-based violence, such as sexual exploitation, female genital mutilation, child marriage, and sex trafficking. By partnering with grassroots activists and using strategic litigation and advocacy, Equality Now seeks to create lasting change and ensure that women and girls have equal rights, opportunities, and freedoms.
About the Project
This project aims to strengthen and diversify women's rights movements in the Middle East and North Africa (MENA) region, with a focus on addressing discrimination against women and girls from different backgrounds. As the secretariat of the coalition, named Hurra (meaning "free [woman]" in Arabic), Equality Now will lead efforts to establish and support the MENA Equality in Family Law Network over the next three years.
The network will advocate for legal reform in family law, particularly in the areas of child marriage, custody rights for divorced mothers who want to remarry, and fair distribution of family wealth following divorce. These focus areas are interconnected and contribute to the marginalization of women in the region. By dividing the work into specific focus areas, they aim to make tangible progress and build the expertise and confidence of participating women's rights organizations (WROs).
The coalition will expand participation from 9 to at least 18 member WROs, with an initial focus on 8 countries: Iraq, Jordan, Palestine, Lebanon, Egypt, Tunisia, Morocco, and Algeria. Equality Now, with the support of Gucci, aims to promote universal human rights and work towards equality for all women and men in matters relating to the family, irrespective of religion and culture.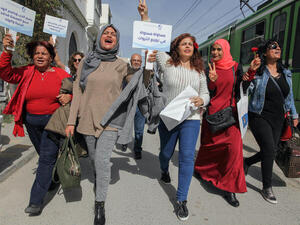 Come funzionano le donazioni
Fai clic su un pulsante "Dona ora" e poi decidi l'importo della donazione. Passerai quindi al sistema di elaborazione dei pagamenti di tua scelta. Dopo l'elaborazione, la tua donazione sarà inviata all'organizzazione benefica di tua scelta.
Serve aiuto?