Oportunidad benéfica
Ending Sexual Violence Against Women and Girls from Marginalized Communities in India
Support activists in India working to repeal discriminatory laws perpetuating violence against women
Sobre esta Oportunidad benéfica
India is one of the world's most dangerous countries for women, and this is compounded by severe discrimination based on caste and tribe faced by marginalized communities.
Even though the Indian constitution guarantees the right to equality and equal protection of the law, and forbids discrimination on the basis of religion, race, caste, sex or place of birth, women from marginalized communities face significant barriers in accessing justice arising from gender, caste and class discrimination.
Violence, including rape and gang rape, have been systematically utilized as weapons by dominant castes to oppress women and girls from marginalized communities and reinforce structural gender and caste hierarchies.
Issues are wide-ranging and deeply embedded and include:
● a culture of silence and impunity
● failures to register complaints on the part of the police
● pressure and threats from communities to remain silent
● survivors and sometimes their families being forced to leave the village or neighbourhood
● the continued use of unscientific and banned intrusive medical examinations
● difficulties in accessing the criminal justice system and support services
At the end of 2020, Equality Now released the report Justice Denied: Sexual Violence & Intersectional Discrimination - Barriers to Accessing Justice for Dalit Women and Girls in Haryana, India, produced in partnership with the local organization, the Swabhiman Society.
The report uses a range of data and 40 stories of survivors of sexual violence to describe the specific barriers faced by Dalit survivors of sexual violence, and to present urgent recommendations to the Indian and Haryana State Governments for taking action to end caste-based sexual violence.
This is just the start of our work to hold the police, the judicial system and lawmakers to account to deliver on the Indian government's own commitments to human rights, to change cultural attitudes, and to achieve justice for survivors of sexual violence in India.
Through Gucci's kind support of our work in India, Equality Now will:
1. Strengthen our collaboration among grassroots groups, activists and other frontline workers working on sexual violence against marginalized groups, and convene stakeholders from different States to share experiences and best practices at the local and State level
2. Strengthen the capacity of women's groups to work on legal change by developing their understanding of laws and legal processes and the opportunity provided by international legal frameworks to support change
3. Build evidence and data from different States on the loopholes in the law and practical barriers to accessing justice which are faced by survivors of sexual violence from marginalized communities
4. Utilize social media, the media, artists and activists to increase awareness within the country on the intersectional forms of discrimination and barriers to accessing justice faced by survivors of sexual violence from marginalized communities, as well as bring about a shift in attitudes and support for legislative and systemic change
5. Build on our partnerships and access to UN mechanisms and meetings to leverage this focus on violence against women and girls, to elevate the issue of sexual violence against marginalized women and girls to the global level, and to seek commitments from the international community to ensure it is inclusively addressed.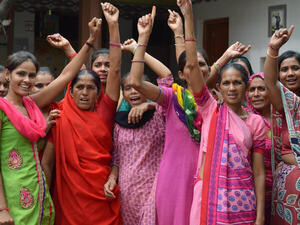 Cómo funcionan las donaciones
Haga clic en cualquier botón de "Donar ahora" y, luego, decida su importe de donación. Será dirigido al procesador de pagos que elija. Una vez que su donación se haya procesado, se enviará a la entidad benéfica de su elección.
¿Necesita ayuda?