Opportunità di donazione
System Reboot: Technology and Innovation for Gender Justice
Supporting locally led technology solutions for stronger feminist movements around the world
Informazioni su Opportunità di donazione
Digital technology offers powerful tools for connection and visibility, and gender justice activists around the world are using digital platforms for their organizing more than ever before. Throughout the COVID-19 pandemic, Global Fund for Women's grantee partners have sustained feminist mobilizing by launching apps, building digital networks and communities, hosting online dialogues, and more.
At the same time, increased online presence and rising authoritarianism globally have exposed feminist groups with online presence to unprecedented levels of online violence, surveillance, and censorship. Activists face harassment in person and on their social media channels and in digital workspaces such as Zoom, Slack, and Google Docs.
To achieve gender justice, women, girls, and all marginalized people need equitable access to technology, their digital rights upheld, and to be safe online. That's why Global Fund for Women has partnered with Gucci's CHIME FOR CHANGE on a robust initiative to disrupt, re-envision, and reclaim technology and innovation.
With support from Gucci's CHIME FOR CHANGE, Global Fund for Women is working with four organizations—Fondo Semillas in Mexico, ELAS Fund in Brazil, HER Fund in Hong Kong, and the Mediterranean Women's Fund in the Mediterranean region—to bolster local and regional gender justice movements through innovative tech solutions.
Funding will support, for example:
Digital technology equipment and training so activists can sustain their gender justice work through pandemic-related lockdowns
Digital safety and security tools and training to ensure that groups can organize online and respond to attacks
The creation of an online platform where activists, journalists, and others can come together to strategize, share resources, and fight back against censorship
The development of an app where survivors of gender-based violence can access digital guides, directories, and other useful tools like a chat function and 24-hour hotline.
We are also thrilled to partner with the first feminist tech fund based in the Global South, Numun Fund, to help groups conduct digital safety and wellness assessments, adapt their existing tools, and develop new protocols to enhance their digital security and capacity.
This work is bolstered by Global Fund for Women's leadership on the United Nations' Generation Equality Forum Action Coalition on Technology and Innovation and our bold commitments announced at the Paris Forum in June 2021. Together with feminist activists globally, we are working towards a world where technology and innovation work for—not against—gender justice.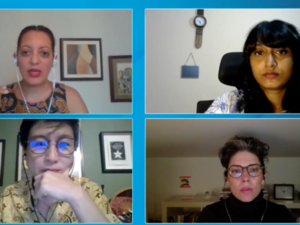 Cause in Opportunità di donazione

San Francisco, California, 94102, United States
Come funzionano le donazioni
Fai clic su un pulsante "Dona ora" e poi decidi l'importo della donazione. Passerai quindi al sistema di elaborazione dei pagamenti di tua scelta. Dopo l'elaborazione, la tua donazione sarà inviata all'organizzazione benefica di tua scelta.
Serve aiuto?