For many girls the critical adolescent years are shaped by harmful experiences that are oftentimes irreversible and irreparable. As women they are often further subjected to violence, poverty and severe health problems as a result. AGLDF supports and publicizes strategically selected legal cases, diversified to represent the most common and compelling human rights abuses of adolescent girls. Current cases involve sex tourism, child marriage, incest, female genital mutilation and rape.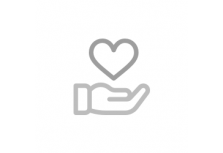 Como funcionam as doações
Clique em qualquer botão "Doe agora" e, em seguida, decida o valor da sua doação. Você será então direcionado ao processador de pagamento de sua escolha. Depois que sua doação for processada, será enviada para a instituição beneficente de sua escolha.
Precisa de ajuda?